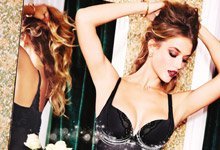 With its market entrance into the United States of America and Mexico in 2013, Triumph International further increases its global presence. By acquiring two successful lingerie retailers - Journelle (US) and Vicky Form (Mexico) –, Triumph expands its presence in these new markets, while additionally announcing plans for growing with controlled Triumph shelf-space in the US.
Together today with its existing business in Canada, Triumph today has business stakes in all North American markets, continuing its success story with fashionable quality products, supreme fit and excellent service to style seeking consumers.
In 2014, Triumph introduced the "Magic Wire" concept, a new technologically advanced bra innovation that shapes and supports women's breasts with a soft, flexible feature instead of metal wires, setting a new trend within the lingerie industry. "Magic Boost", the concept's expansion into the push-up segment, will hit markets in spring, 2016. "DYNAMIC LITE®", a new 3D POWERTEC® sports bra range with extreme support and innovation for everybody's shape and size, will launch in autumn, 2016.
In 2015, Triumph launched "Find the One", one of the largest marketing and communication campaigns in the lingerie business. The campaign supports women in their quest to find the one bra right for their body, given that over 75 % of them wear the wrong bra size. A magical, animated TV commercial carries the message across Europe in a charming and innovative fashion.
From autumn 2014 to the end of 2015, brand sloggi teamed up with much-loved, chart-topping Kylie Minogue as the brand's face and limited edition collection curator.
The "Cotton Revolution" started by sloggi back in 1979 takes a giant step forward in autumn 2015: The specially sealed, long-lasting cotton material developed for sloggi "EverNew" underwear is of such high quality that all "EverNew" come with a lifetime guarantee*.
With its launch in Mexico the same season, today sloggi brings this fine quality and supreme comfort to new fields. sloggi men sets off to complete sloggi's presence in the Australian market. The roll-out of a new sloggi shop in shop system in Europe starting in 2015 ensures a phenomenal new shopping experience.
Going forward, Triumph International continues to build its position as one of the world´s leading intimate apparel companies. Around for 130 years, the company has become larger and more international by the decade. Such a long period of success is only possible with a keen sense for fashion and excellent insights into the desires and needs of consumers. Beautiful designs, advanced textile engineering and unparalleled innovative power have always been achieved with an experienced and motivated community of employees around the world – they are the true "Makers of Lingerie".